Conquistadors and 16th C. Native American Living Historians!
Thanks to the generous funding by the Parkin Archeological Support Team (PAST) and the Arkansas Humanities Council, we had a great event!
As photos and other feedback on the event become available, I'll update this page.
Welcome to the official information and planning page for the DeSoto 2000 event held in Parkin, Arkansas on September 15-17, 2000 at Parkin Archeological State Park.
Congratulations to the following for their outstanding first person presentations. It was a tough competition.
1. Chuck Dale
2. Jennifer Burke
3. John Shaffer
4. Nancy Robinson
5. Sheila Benjamin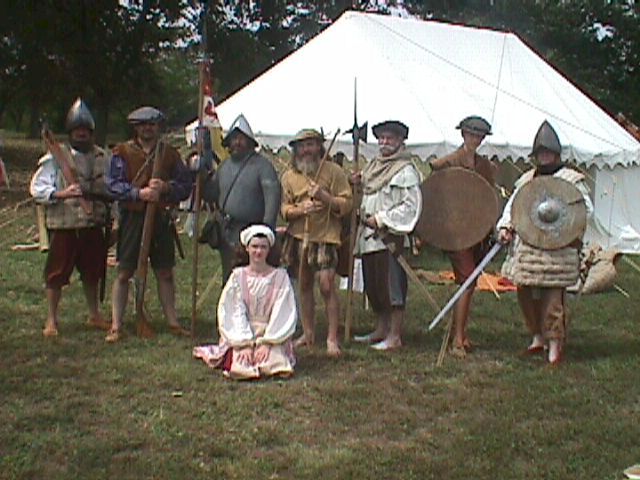 Parkin event 1998 - MVEP and Tim Burke, John Shafer
Authenticity - we depicted both 16th C. Spanish culture and the de Soto expedition circa 1541 in Arkansas. As this event is supported by a Humanities Council grant, we need to ensure a high level of accuracy in our impressions.
Spanish: The Calderon's Company home page has lots of material on the entrada period.
Native American Living Historians are needed to depict the Mississippian culture, and if your are interested in creating a Mississippian impression, I have a paper by the Arkansas Archeological Survey that will help you greatly. Contact Kent Goff and I will mail you out a copy. See the Casqui page for photos of reconstructed warrior heads.
Participating Organizations (and Web sites)
Mississippi Valley Educational Programs (host unit)
Calderon's Company - Tim Burke
Thanks for joining us in September 2000!
If you would like to join the email group concerning future De Soto living history events, please go to www.groups.yahoo.com/group/desoto2004 and join the desoto2004 egroup. Review past messages and find more info on the plans we have for future events, the success of DeSoto2000, and links to other web sites that will be of help.